Apply here, for the best careers in Fulton County.  Best Place to Work, Townsend Leather, is hiring. Looking for a job in Fulton County? Job outside the box, get a job you

love

, and put your future in your own hands with the award-winning, culture-focused, career-crafting team at Townsend Leather.
Careers, handcrafted with passion. 
---
Townsend Leather is a specialty leather manufacturer artistically producing made-to-order leathers for the luxury aircraft, hospitality, and footwear industries. We are a group of specialized craftspeople who produce the most beautiful leather in the world, join us.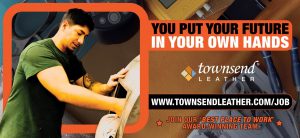 ---
A job, a change, a career, a passion, a craft, your life.
Craft your future, with a passion-driven career at Townsend Leather.
We love what we do, who we do it for, and who we do it with – join the team.
See more of work-at-Townsend life, on our Facebook page: www.facebook.com/TownsendLeatherCompany
When you are ready to put your future in your own hands, join us. 
---
Our current open positions include:
Production(starting at $15.50 / hour 1st shift, $16 / hour 2nd shift)
2nd Shift Wet Department (starting at $16 / hour)
Awesome Person
We aim to hire great people and then find the place where they fit best. Even if none of our open positions fit your future goals, but you still want to be part of an exciting, culture-forward, passionate, fun-focused team – APPLY, we might find a spot just for you!
Current open positions will look something like this:
Highly competitive pay
Full-time Positions
8-hour shifts
Monday to Friday
Typically 5 am to 2 pm
Overtime and Bonus Pay
SO SO MANY BENEFITS
401(k) and 401(k) matching!
Dental Insurance
Disability Insurance
Life Insurance
Vision Insurance
Health Insurance
Flexible Spending Account
Health Savings Account
Teammates with great taste in music
Employee assistance program
Flexible schedule options
Paid time off
Parental leave
Free T-shirts
Professional development assistance
Retirement plan
Infinite air-high-fives
Internal social-media channel
Opportunities for social-media stardom
Daily excitement at knowing you are part of a team crafting something loved around the world
Tuition reimbursement for employees and their families
and more!
APPLY RIGHT HERE OR GO TO WWW.TOWNSENDLEATHER.COM/APPLY
We want thinkers and problem solvers, who understand the value of coming in at the ground level and growing forward with leather and with their own personal development. Innovators, goal-setters, question-askers…
We are always looking for great people to join our team.  We aim to get great people in the door and then over time find the perfect spot to utilize their interests, skills, and passions.
Townsend is built on experience and knowledge and skill.  Townsend partners need to be well-rounded in their understanding of our people, products, and processes.

We hire with the goal of giving our production force the opportunity to learn from all parts of the production floor and all pieces of the process, cross-training. Great candidates for our team will be willing to learn new things and always continue to learn, will have an above-basic understanding of computers – as all Townsend Partners are required to use a computer, will have a desire to lead from a position that does not have a leadership title, and amongst many other things will be someone people look forward to seeing each day.
See more about our world-famous Get Shit Done shirts here: www.townsendleather.com/2021/lifestyle/get-sht-done 
Townsend Leather, named a Times Union Top Workplace and Albany Business Review Best Workplace is committed to hiring high-quality job candidates. Incomplete applications will not be considered. Townsend Leather is a drug and alcohol-free company. Pre-employment drug testing and background check are required for all candidates. 
Apply today
Our state-of-the-art factory of 110,000 SF is located in upstate New York, about 50 miles NW of Albany.
Consisting of 200 employees, we produce leather to exact specifications and take great pride in our level of workmanship, quality control, and customer service.  Townsend Leather is the premier source for the finest quality upholstery leather for luxury markets the world over.  Townsend's offering of new and unique leathers are driving the standards in luxury interior designs in business, commercial, and VIP aircraft, in yachts, automobiles, and motorcoaches, and for the residential, contract, and hospitality applications.
Craft your future,
with your own hands.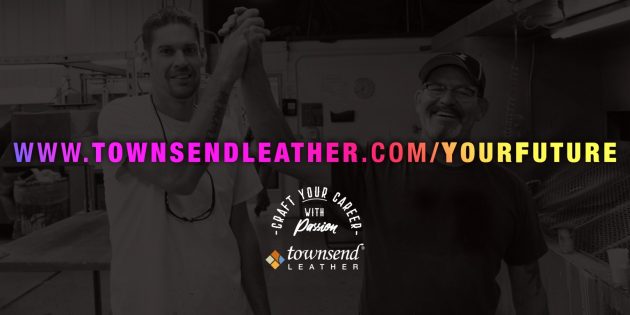 The future is what you make it. 
You can shape your future and your story the way you want to.
Find your passion, develop your skills, take pride in your work, create something new…
do it with Townsend Leather.
Take a chance on yourself and your future and apply today:
At Townsend Leather, you are part of a unique culture of excellence. 
We don't hire for specific positions, but rather hire awesome people and train them for a variety of responsibilities along the way. 
Every employee has a growth path of their own making, with new roles responsibilities, and opportunities arriving all the time.  With support all along the way, through training inside and outside of Townsend, through team-focused culture, through travel opportunities, health care, dental care, cultural experiences, wellness events, values-based awards, fun t-shirts, small group events, and company-wide fun times… growth and time at Townsend is not just skill-focused, it is focused on the whole person.
Townsend Leather is full of Partners that are full of passion.
We take pride in our work, in our team, in our craft.  We are the creators and makers of the world's finest upholstery leather.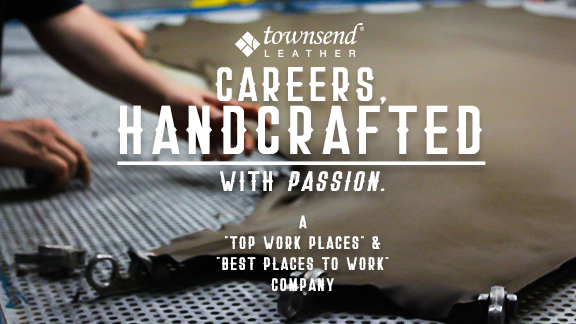 Join us and have your hand in and on the finest leather in the world, that travels across the world.
Taking leather hides then sorting, dyeing, coloring, fine-tuning, crafting, enhancing, and beautifying them with the highest level of artistry and craft, turning them into leather for seats literally fit for a king.
Our leather is all over the planet, in the highest-end luxury hotels, to the celebrity private jets that fly to those hotels, to bands posh tour buses, and the dressing rooms of the stages they are headed to.
We do it all and do it best.
Not only is our product the best in the world, but the team that makes it is the best.  And continues to win awards proving so!  Townsend Leather has been recognized as a Top Place To Work and a Best Place To Work for years in a row!
We have the greatest team doing the greatest work with the greatest attitude.  If you want to take control of your future and craft your career, apply to join our team today: