We are craftspeople and artisans, with a passion for leather. We source only the finest pearl crust in the world, then manufacture it with heart and diligence, to our customers' exact specifications.
We have complete control over the entire leather-making process.
With more than 50 years of leather manufacturing experience and our beautiful campus of state-of-the-art production facilities, Townsend Leather is able to offer customers an incomparable line of leather services.
Our experienced craftspeople painstakingly inspect and certify excellence at every stage. Every order undergoes extensive and comprehensive testing to guarantee compliance with the highest of industry quality standards for performance and flammability.

Leather Production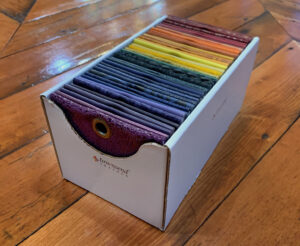 The Townsend Facility
Located in the heart of the Leather-Making Region, Townsend has ready access to the latest developments in leather technology and to a labor force experienced in leather production. Our capital investment in facility improvements and in new state-of-the-art leather manufacturing equipment affirms our commitment to producing high-quality, innovative products.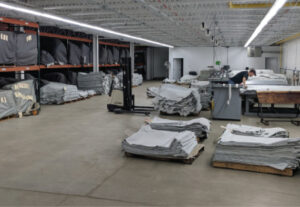 Sourcing
Producing high-quality leather begins with acquiring the best raw materials. At Townsend, we accept only the finest hides and skins from partner tanneries around the world to ensure we are providing our customers with the best yield and value available.
Our leathers begin with the careful selection and control of crust procured from West European Bulls. The hides of these regions are the best in the world in regard to selection which we consider to be crucial in producing the highest quality leather.
West European Bulls are the best due to excellent veterinarian practices, the stable and mild climates of these regions, and the manner in which the animals are allowed to graze in wide-open fields without barbed wire fencing. These animals are not branded (as are animals coming from other parts of the world) and Bulls are raised to a maximum of 18 months old.
While we do not do the tanning ourselves, we are aware of how the tanning process affects the hides we procure, and we only use hide sources that strictly adhere to sound environmental practices. Once we select the hides, they are re-graded to our high-quality standards and to the appropriateness of end product type, then aniline-dyed, processed and finished in our own factory.
Aniline-Dyeing
Once we have the hides in-house, we use aniline dyes (which are water-based) to custom-color the hides to meet our customers' specifications. As all hides are unique in their natural markings, the hides also absorb dyes differently from hide to hide and even in different sections of a hide. We drum dye our hides and tumble them in a rotating drum to make sure the dye penetrates the hides as consistently as possible.
Embossing Patterns and Textures
We have the largest collections of embossing patterns for leather under one roof in the U.S. with over 700 embossing plates and more than 140 calendar rolls. Through the use of specialized techniques by our highly skilled leather craftspeople, many textures can be embossed on whole cowhides without showing overlap lines. This maximizes cutting yield and greatly minimizes the need for excess seams during upholstery.
We have internal graphic design capabilities that allow us to create custom embossing patterns in unprecedented turn-around time.
Hand-tipping and Hand-rubbing
We offer options for unique finish applications, including hand rubs and hand-tipping applications that highlight embossed patterns (Hand-tipping) or the natural grain of the leather (Hand-rubbing). Because the characteristic finish effect is applied by hand, variation within a hide and from hide to hide should be expected as part of the beauty of this leather; each hide is given individual attention and is unique in its beauty. These hands-on capabilities allow us to truly raise our leather to a new level of craftsmanship and artwork.
Finishing
Finishing can refer to any enhancing effect applied to leather after it has been tanned. Examples are dyeing, embossing, buffing, antiquing, waxing, waterproofing, and so on.
We most commonly refer to Finishing in terms of our products that have a protective pigment or topcoat applied. Our most popular example is our Classic leather. Classic, and other similar products, are made by a process of surface coating with a mechanical spray application of pigmented formula and topcoat which provides protection from soiling, fading, and wear. Finished leathers have uniform color consistency and there are fewer defects apparent with a Finished Leather as compared to an Aniline Leather.
Quality Control Standards
Every order of Townsend Leather is thoroughly tested in our own laboratory to ensure that it meets or exceeds industry performance standards. In addition to routine quality tests, we are also able to perform many other tests to meet a job's specifications or submit our leather to an independent laboratory for certification. Because we are the manufacturer, controlling all production processes and retaining the exact formulas and retainer cuttings of each order, we can control dye lot variation and produce previous dye lots to match from year to year.
Pattern Cutting
Our high-speed, modular leather cutting system features automated hide scanning, perimeter identification, and flaw recognition. It offers the most advanced cutting and nesting technology available today for improving cutting yield and overall productivity. For customers with repetitive pattern cutting requirements, the Townsend Pattern Cutting System can produce multiple sets cut to your specifications on schedule and at defined costs.