Important policies, details, and information for you to know about our leather before and after your purchase.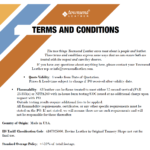 Please take note of our Terms and Conditions
---
Open your leather order as soon as it is received and please take note of our Storage Policy and best practices
---
Read our Limited Warranty
---
Townsend Leather's Environmental Policy
---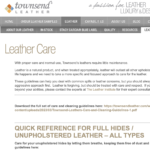 Information on how to Care for and Clean your leather
---
Townsend Leather Touch Up Color Coats SDS Sheets
---
Provide us with Feedback
---
Contact us for any needs or questions
---
Shipping Information:  Townsend Leather's current shipping outlook is 3-4 weeks for new production orders.  In-stock and Quick-ship options are available for extremely expedited shipping.
CARE AND CLEANING DETAILS FOR EACH PRODUCT TYPE: