Job Opportunities at Townsend Leather
---
---
---
Go to www.townsendleather.com/job for the most up to date hiring information and open positions.
---
---
---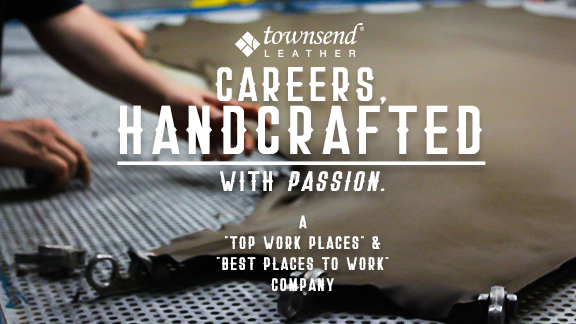 Careers, handcrafted with passion.
Townsend Leather is a vibrant growing workplace that seeks out
inspired, dedicated, and awesome individuals.
Townsend Leather is a specialty leather manufacturer artistically producing made-to-order leathers for the luxury aircraft and hospitality industry. We are a group of empowered partners who produce the most beautiful leather in the world.
TOWNSEND LEATHER IS CURRENTLY ACCEPTING APPLICATIONS:
We are always looking for great people to join our team.  We aim to get great people in the door and then over time find the perfect spot to utilize their interests, skills, and passions.
So, right now we are looking for awesome people to join our Production Team. Production roles might include toggling, leather technicians, second shift work, sprayline team and more.
Color Matcher
Final Inspection
Leather Technician
Second Shift Team Member – Townsend is in an exciting time of growth and expansion, we have a few second shift team member opportunities open right now.  Are you a night-owl? Do you like working with a vibrant team, handcrafting awesomeness late into the night?  Second Shift at Townsend Leather, might be the perfect fit for you.  Second Shift hours are usually around 1:30 – 10:00 pm and team member opportunities might include being on our Toggling Team, our Sprayline Team, or our Wet Team.
Townsend is built on experience and knowledge and skill.  Townsend production partners need to be well rounded in their understanding of our product and processes.


Therefore, we hire for general production with a goal of giving our production force opportunity to learn from all parts of the production floor and all pieces of the process. Great candidates for this position will be willing to learn new things and always continue to learn, will have an above-basic understanding of computers – as all Townsend Partners are required to use a computer, will have a desire to lead from a position that does not have a leadership title, and amongst many other things will be someone people look forward to seeing each day.
Townsend Leather is committed to hiring high quality job candidates. Incomplete applications will not be considered. Townsend Leather is a drug and alcohol free company. Pre-employment drug testing is required. 
Townsend Leather, named a Times Union Top Workplace and Albany Business Review Best Workplace, is committed to being a drug and alcohol free workplace. Pre-employment drug testing and background check is required for all candidates. 
—
Apply Online: www.townsendleather.com/apply
————————————————————————
TO APPLY OR FOR MORE INFORMATION:
Our Partner Development Team would love to hear from you.
Please contact:
Ashley Capobianco (HR Director) ashleyc@townsendleather.com,
Tricia Martin (SR VP of Customer Service)  triciam@townsendleather.com,
Tim Beckett (SR VP) timb@townsendleather.com,
Jared Eckler (President) jeckler@townsendleather.com, or
Shawn Czadzeck (Communication Designer) shawnc@townsendleather.com
to discuss any opportunities and to learn more about how you may be a fit for Townsend Leather.
     OR
Fill out our online application
     OR
Send your resume to:
Townsend Leather Co.
Awesome Job Opportunities
PO Box 669
Johnstown, NY 12095
Our state-of-the-art factory of 110,000 SF is located in upstate New York, about 50 miles NW of Albany.
Consisting of 150 employees we produce all our own leather to exact specifications, and take great pride in our level of workmanship, quality control and customer service.  Townsend Leather is the premier source for finest quality upholstery leather for luxury markets the world over.  Townsend's offering of new and unique leathers are driving the standards in luxury interior designs in business, commercial, and VIP aircraft, in yachts, automobiles and motorcoaches, and for residential, contract, and hospitality applications.
#Job Opportunities #Awesome Work