The Touch of Leather
Townsend Leather is fundamentally about leather, but it is the hands that make it and the hands that love it which drives us forward. That is why we give our 2020 focus to a year centered around, TOUCH. The Touch of Leather.
The feel, the softness, the warmth, the nap, the texture, the luxuriousness, the artistry, the beauty . . .

like the expansive span of watercolor, the touch of leather reaches out in all directions, giving us a sense of timelessness and connection while invigorating all of our senses and emotions.

---
Townsend Leather's 2019 was spent Stitching Together our past, our future, our history, & our dreams. With huge moments like the celebration of our 50th Anniversary and the Grand Opening of our newest building, The Stitch. It was a year of epic proportions in Townsend storied history. The most commonly repeated element, as is always with Townsend Leather, is the connection and love of people. People, hands, connection – coming together with hard-times-hugs and celebration-high-fives, coming together to create beauty and rest in luxury.
We celebrated Townsend's history of 50 years and spent time dreaming about the future. The common thread is always people, craft, leather… touch. 2020 is a focused return to the core of Townsend Leather – the touch of leather. Nature's textile.
We manufacture leather. Leather demands to be touched. And when it is, it sparks a sense of earth, connection, luxury, beauty, timelessness.
This year will continue to be a celebration, a celebration of this wonder-material of leather and the way it draws your hand to it, the way it calls out to be touched, the way it touches your heart. A celebration of the hands that craft it and the hands that love it.
Our theme of The Touch of Leather kicks in, right at the turn of the year, by starting our year off with our annual calendar gift. This year giving focus to action and the touch of your words on the page… a notebook with ample space for your dreams, goals, messages of thanks, and notes.
Please contact us, if you have not received your very own 2020 Touch of Leather Notebook/Calendar from Townsend Leather, email us at info@townsendleather.com so we can get one into your hands.
And we have an additional gift for all you active-notebook-users out there, you know who you are ;) – page organizational stickers!
Contact us for your own free sheets of Townsend-centric page-marking STICKERS and more!
Mark your important pages with page flags!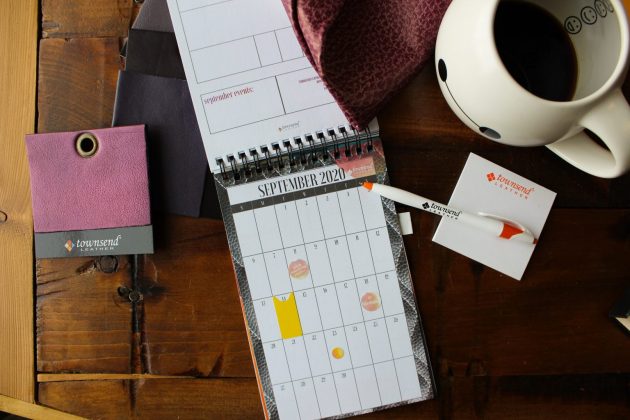 Mark important dates with calendar callouts!
This year will be full of touching surprises, beautiful leathers, and opportunities for us to connect.
Let us know what you want to get your hands on!
Want to show off your Townsend fandom? Or express your colorful love of leather?
Get your own Townsend Leather designed designer tee's at:
https://www.townsendleathershirts.com/
The above link brings you right to a storefront for Amazon where you can place orders for your favorite color and size in any of the Townsend designs.
TOWNSEND LEATHER
Visit Us:
4 Grove Street
Johnstown, NY 12095
Mail Us:
P.O Box 669
Johnstown, NY 12095
Ship to Us:
45-49 Townsend Ave
Johnstown, NY 12095
Instagram
www.instagram.com/townsendleather
Facebook
www.facebook.com/townsendleathercompany
Twitter
www.twitter.com/townsendleather
YouTube
Townsend Leather