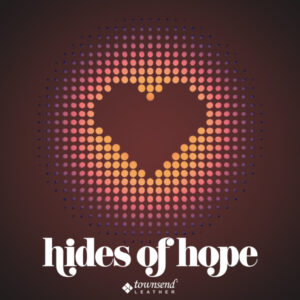 Partners supporting Partners
Townsend Leather's Hides of Hope
Sending care and support for significant moments in each other's lives.  
Hides of Hope aims to show collective care from all our hearts to each individual Partner.  In times of hardship and grief, and in times of celebration and joy… we are there for each other in heart, in spirit, and in support.  
Email hope@townsendleather.com when you or a fellow Partner needs hope.
---
If you are facing:
disability,
a death in your family,
or surgery…
money collected from your fellow Townsend Partners can be gifted to you as a small financial-gesture to help you through this tough time, but as a giant heart-gesture because it is a physical embodiment of how we are all there with you, supporting you, and sharing Townend-love to you.
If you are celebrating:
a wedding,
a new family member (birth, adoption, or even the fur-baby kind (new pet)),
getting a new house,
or celebrating a graduation…
money collected from your fellow Townsend Partners can be gifted to you as a small gesture to join in these good times.  A giant heart-gesture of high-fiving, excitement, and support with you.
---
HIDES OF HOPE
Our Hides of Hope team is a small group of heart-driven Partner-passionate Townsend Partners.  If you have something going on in your life that you need support with or want to celebrate, please let the team know.  If you know of someone/anyone at Townsend that is facing hardship or an exciting time in life – please let the team know!  
We need all of us banding together to share in these moments with each other and help get the word to the HoH team, so they can get a card and check sent out.
PLEASE EMAIL THE HIDES OF HOPE GROUP AT: hope@townsendleather.com 
---

HOPE CABINET
Our Townsend Leather

HOPE

 CABINET is a physical expression of 

hope

, for all Townsend Partners.
Hides of 

Hope

 has expanded with even more support for our Partners in need.
If you need something to make your life easier, if you need a moment of 

Hope

 – your Townsend Partners are here to be here with you.
Centrally located, our 

Hope

 Cabinet is near the bathrooms by The Lodge/Wet Department.

A simple, but heartfelt cabinet full of goods you might need.

Free to use, no judgment or permission needed. Take what you need when you need it.
There is also a bathroom with a shower right there. A single-person, non-gendered bathroom, with a shower for anyone to use when needed.
Maybe you spilled an entire morning milkshake on your shirt while walking into work and you need a change of shirt – check the

Hope

Cabinet. Or maybe you are in a tough spot and need a hot shower and a change of socks that you can't get elsewhere in your life right now, the 

Hope

 Cabinet is here for you.
HOPE

 CABINET – A HELPING TOOL FOR WHEN YOU NEED IT.
AN ON-YOUR-HONOR CABINET OF GEAR THAT CAN MAKE YOUR LIFE A LITTLE EASIER.
THIS CABINET WILL PERIODICALLY BE STOCKED WITH PERSONAL ITEMS FOR YOU TO USE WHENEVER YOU NEED IT. IF YOU KNOW OF SOMETHING THAT WE SHOULD ADD, PLEASE LET ASHLEY KNOW.
IF YOU ARE IN NEED OF SOMETHING EVEN MORE IMPORTANT THAN WHAT IS AVAILABLE IN THESE CABINETS, PLEASE SEE ASHLEY, WE WILL FIND A WAY TO HELP YOU.
THESE ITEMS ARE PROVIDED TO YOU FREE FROM TOWNSEND THROUGH OUR HIDES OF 

HOPE

PROGRAM, FOR WHEN YOU MOST NEED THEM.
If you have any thoughts about this cabinet, or any needs, or items to donate, or questions or ideas… please see Ashley in HR. 
---
HUGS
Townsend Leather loves our community and are always looking for ways to support and celebrate the cool things happening around us.  If you have a charity or fundraiser, or a team or club, or an event or cool thing that you need funds or volunteers or anythign for… fill out our HUG form and let us know.