Order Quilted Leather Samples or a full box set of Quilted Samples here: Townsend Leather Quilted Leather Designs
Quilting By Townsend Leather.
You choose the design, we control the quality.
With our on-site customizable quilting machine and expert craftspeople, we can take your dream and stitch it into a beautiful reality of your exact specification. Our AS9100 certification and on-site manufacturing ensures the highest of quality.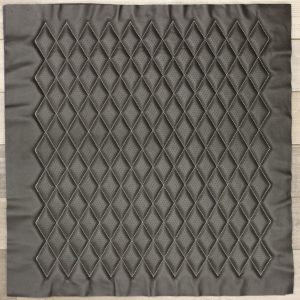 Townsend Leather recently acquired state-of-the-art machinery which allows us to create standard and one-of-a-kind pattern seat inserts and panels featuring decorative patterns made through a combination of technical stitching and custom perforation.
This unique process uses both thread and hole punches to create beautiful, quilted patterns. Quilted Leathers can be produced on any one of Townsend's In-Stock, standard, or custom-colored leathers and the whole process is completed at Townsend's Upstate New York facility with quick turn times and attention to the finest quality.
We are generally able to provide customized samples to your specifications but there will be a fee to cover the costs for these. Lead time and cost for samples vary from project to project.
Your Townsend Leather Customer Service rep will be happy to provide a quotation for both sample and production orders, working alongside you on the details of your project.